Trip report - LAX to BNE on Qantas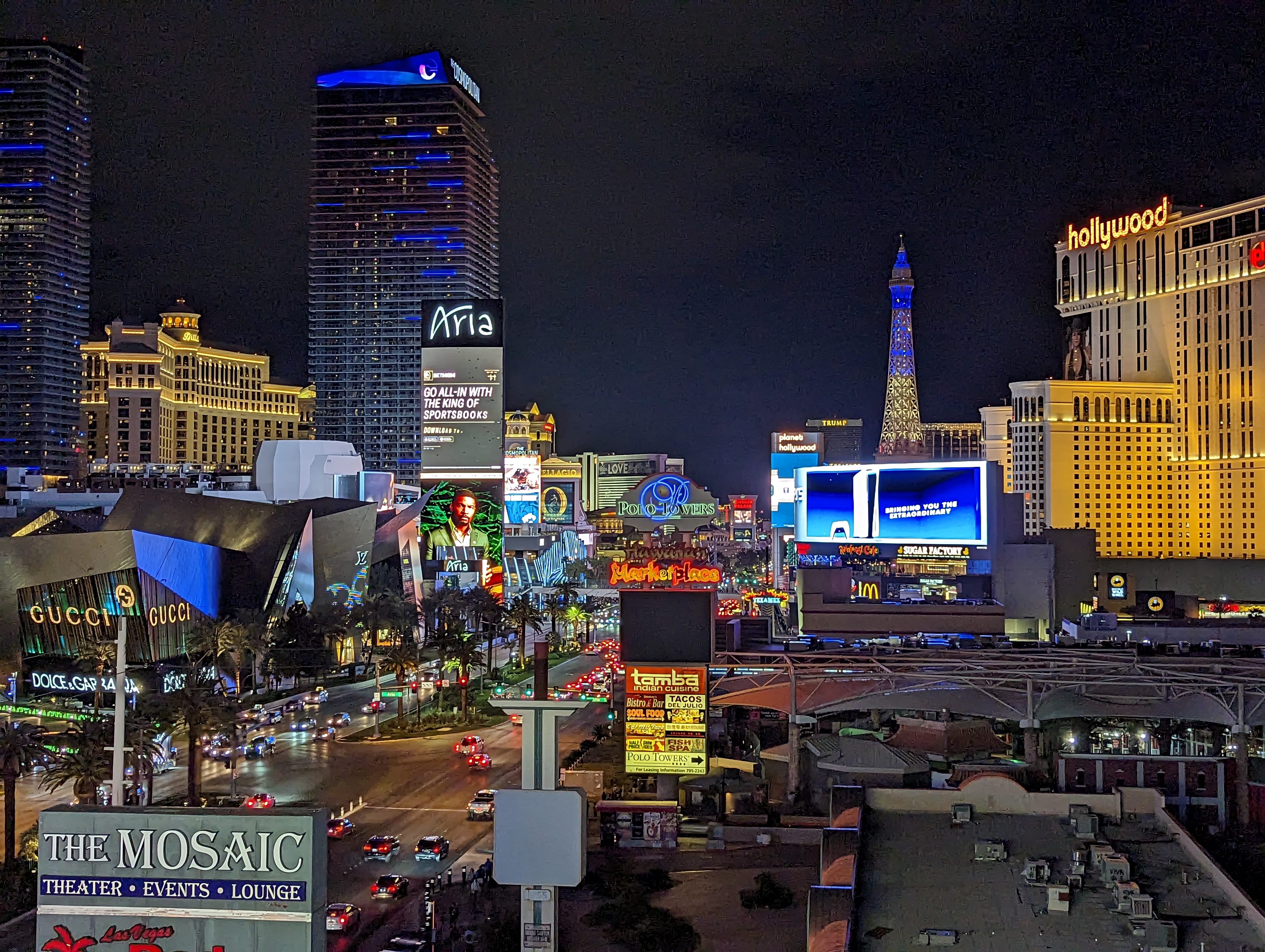 The problem with Las Vegas Airport is that it's in Las Vegas, which is an unremittingly shit place to be. (Technically it isn't actually in Las Vegas, but let's not start with that).
I had spent almost a week at a conference in Las Vegas, which was held within a hotel once called The International, opened in 1969. My brain still tells me it is called the Las Vegas Hilton, a hotel that - despite being the home of a Star Trek experience - lost its name for "falling below the standards of the Hilton brand". Going bust in 2011, it was then called the LVH (apparently standing for Las Vegas Hotel). In 2014, it changed name again, to the Westgate.
According to its website, from 1981 to 1990 it was the largest hotel in the world. It was also the tallest building in Las Vegas when first built. It now has 2,956 rooms. Goodness.
Little bits of history are all over this rather old and sad hotel. A photo of Liberace cuddling Barbra Streisand adorns one of the doors (what a waste of effort, Barbra). Look closer and you'll spot, at the entrance to the SuperBook (a big barn, pictured below, letting you bet on any sport in the world - and apparently the largest in the world), the doors there still have the Hilton logo as the shape of the handles. The entrance to the hotel gift shop is the same doorway as on the USS Enterprise, sadly without a "whisshhhh-pop" moving bit. The LVH name lives on, as the name of the wifi system that runs the slot machines.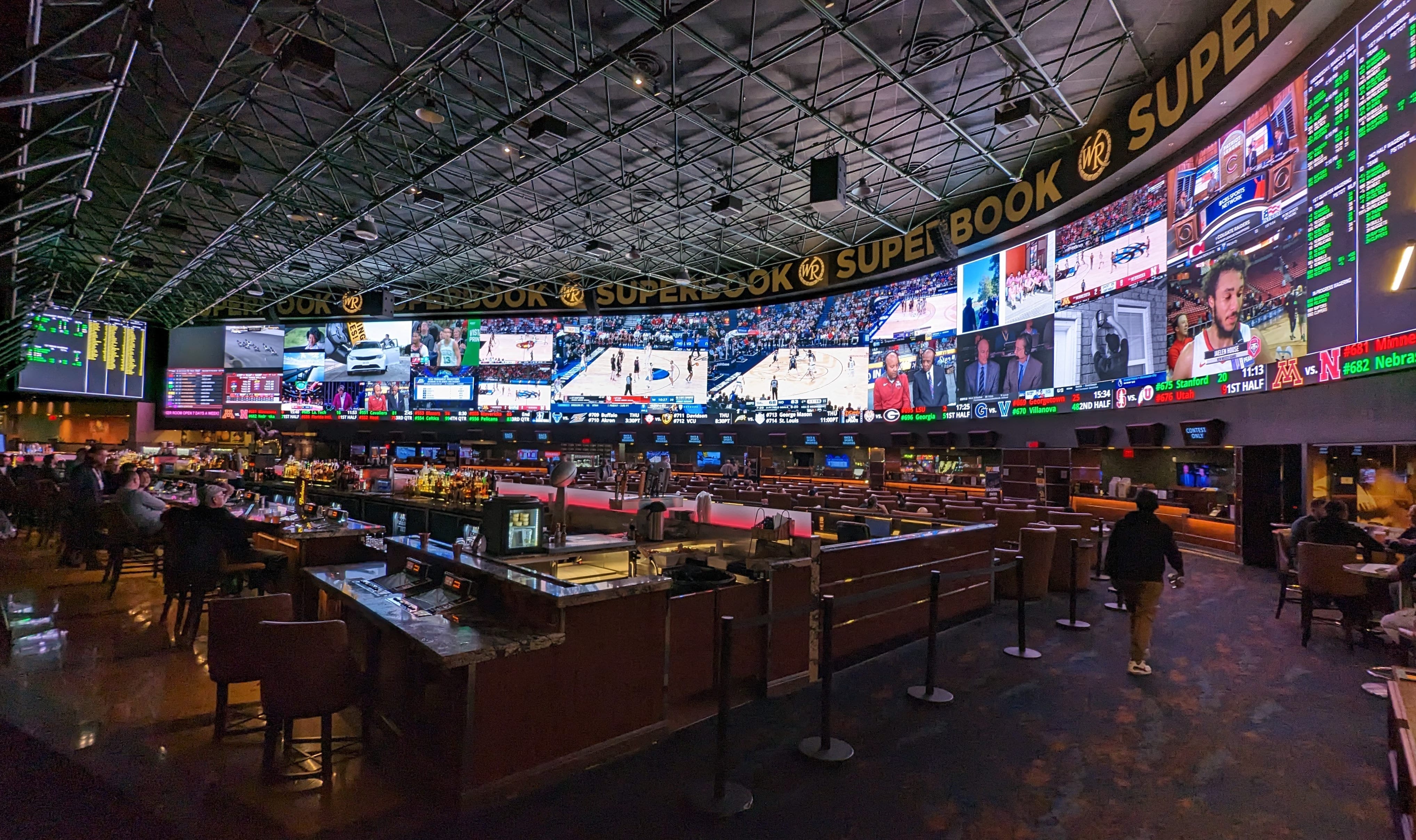 The bits of history weren't just inanimate objects. The previous night, I'd asked the waitress, who had slowly ambled over to take an order for a twice-as-big-as-necessary sandwich, how long she'd worked there. She beamed at me. "I've worked here 24 years", she said. "I had spent 27 years at Jupiter's before that". Hunched over, she slowly wandered off to get the card machine. She must have stories to tell.
In the store were t-shirts with Elvis Presley on them. Elvis played here for seven years, and quite possibly Viva Las Vegas was written in one of the many guest rooms before it was played hundreds of times in the theatre. Elvis is dead now, of course, after eating too many of the sandwiches that I was trying to grapple with; but the history lingers on, with Barry Manilow doing regular shows here at the Westgate. He wasn't playing the week that we were there, but a queue had formed in the casino with lots of people patiently waiting to watch Frankie Valli (but no four seasons). At $149/night, it is one of the cheapest hotels on the strip, even if it isn't really on the strip.
It was good to be able to leave at the end of the week, and leave the gift shops and the all-pervasive slot machines, with the blinking lights and tired old women bleakly hitting buttons on them like some form of robot to while away the final years of their life. An Uber later, I was at Las Vegas International Airport, picking my way through the gift shops and the slot machines in the departure hall, because yes, of course, they have slot machines in the departure hall.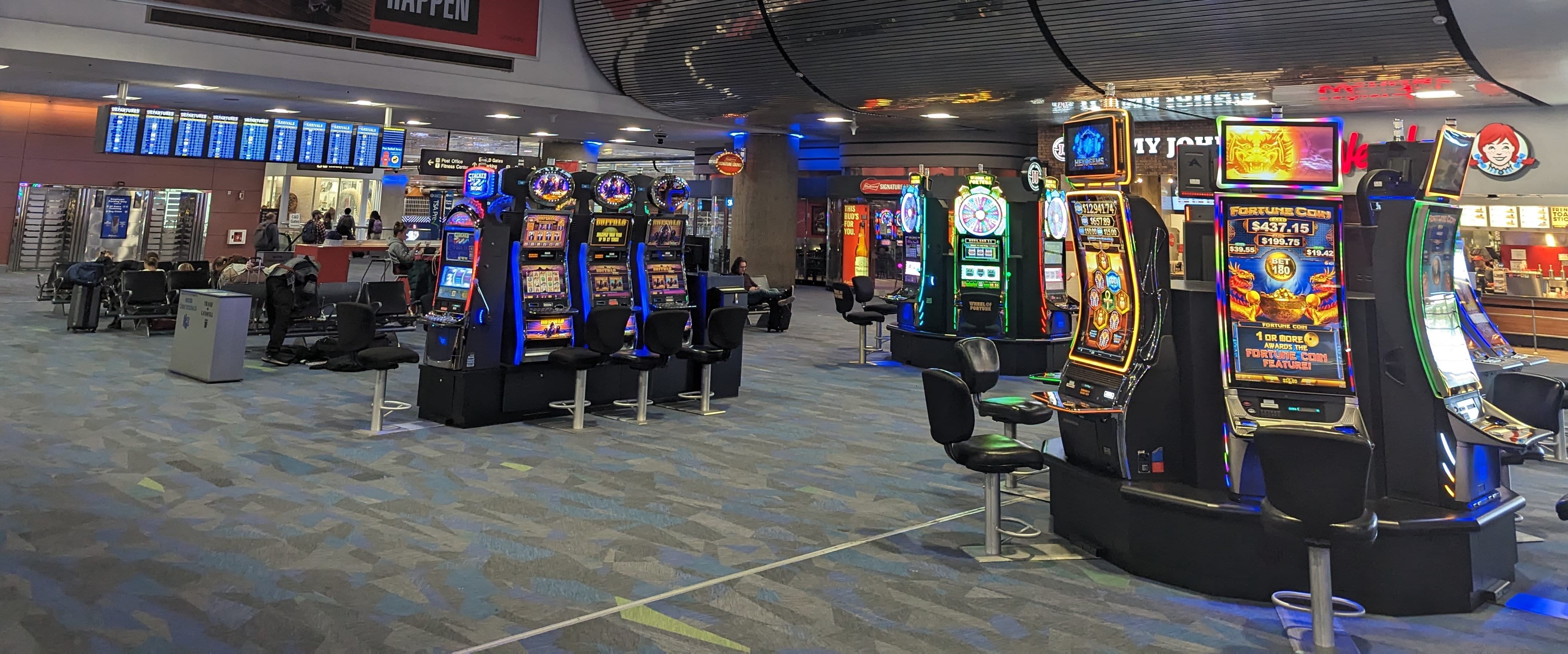 LAS is decent enough really: spacious and bright, not horribly crowded. There is no lounge for AA passengers, so I find a table outside Burger King.
A quick hour-long flight later, I'd landed in LAX, and turned my phone on to see a text message from Qantas. My request for an upgrade had been denied. There was a small chance that I'd be upgraded on entry to the aircraft but that hasn't happened before now, so I resigned myself to an economy window seat on the A330 home, all 14 hours of it.
I had eight hours as a layover, and ordinarily would have gone out of the airport - I was looking forward to seeing Venice Beach. But I'd been surprisingly cold all week, LA had just had snow, and it was raining, so I elected to stay and work for a bit.
My first stop was the American Airlines Flagship Lounge in terminal 4. The person looking at my boarding pass was amused. "You've done this before," he said, "you're going to stay here for a bit and then go over to the Qantas lounge?" Correct, that's exactly what I would be doing - enjoying the space and the natural light in the AA lounge (and the tables that are the right height to work on). It isn't too busy, so I sit and work, nibbling on the cheese and cold meats.
I then walk over to terminal B. It's a strange name for a terminal. There isn't a terminal A. Some domestic flights go from terminal B but it's supposed to be the international terminal; so you could call it the international terminal, except that would confuse the few domestic flights that leave from it. Perhaps terminal B was the least confusing.
I go into the Qantas First lounge. It's the oldest of the First lounges in the network, and while other Platinum flyers rave about it, I think it's a bit of a dingy, characterless place. It fills up for a British Airways flight and empties again. I move from my slightly tired chair in the lounge area to grab something to eat: hoping that the bang bang duck would have been as amazing as the bang bang chicken once was (it isn't), and have a perfunctory and joyless cheeseburger. There are no Aussie beers behind the bar, so we're limited to Sam Adams or a Sierra Nevada. It should be an amazing place, this, but it doesn't feel like it. Perhaps it's time for a refresh.
Half an hour before we're due to board, I bid the lounge farewell, and decide to have a slow walk round the terminal looking at the shops. It was a bit too much of a slow walk. By the time I get to the gate, it's on last call and I'm one of the last ones to board. Yikes. I'm a bit worried when I hand over my boarding pass that I've missed it, particularly when it makes a funny noise and they huddle round the computer typing things.
"You're in business now," I'm told, being handed back a new boarding pass. It turns out that I've scored a last-minute upgrade. Yay! 3A will be my home, not further back.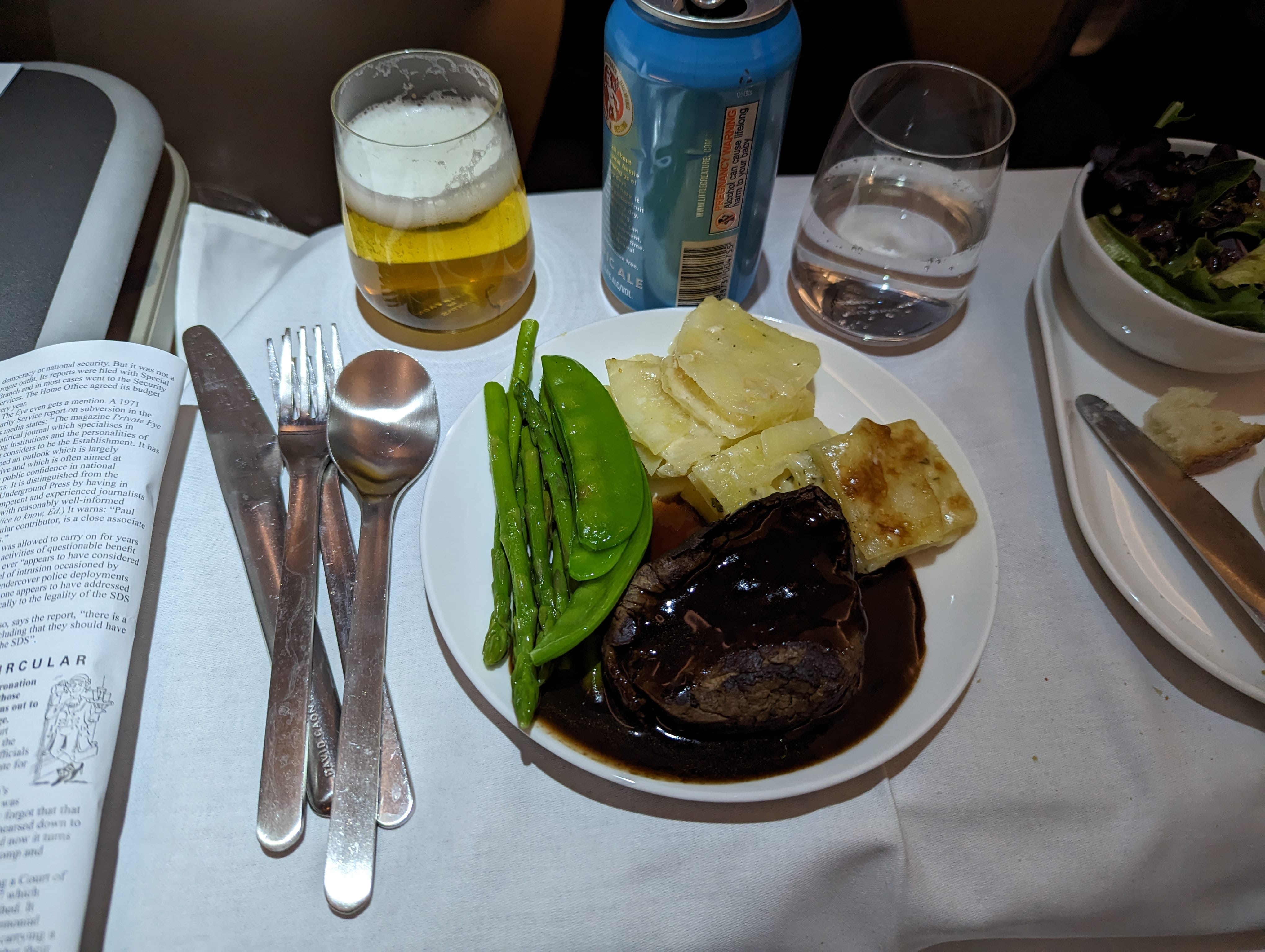 Dinner is decently quick after takeoff. It's US catering in this direction; I go for the beef which wasn't a particularly good cut of meat, but after seven days in Las Vegas it was nice to eat a vegetable that hadn't been deep-fried. It's accompanied by the Little Creatures Pacific Ale - the FA was very worried I asked about beer. "Do you have the Little Creatures?" She looked at me with horror. "Um…" she said, "I think we've got James Boag?" I said: "Do you have the one in the blue can?" She visibly relaxed. "Yes, we do. I'll go get one." Truly, Qantas's beer choice and knowledge is very poor.
A long sleep followed, and I was woken up with the person in front being offered breakfast. Mine came quickly afterwards: the bacon was oily overcooked US nonsense, but the eggs tasted like buttery eggs and were excellently cooked. The kale was ignored. The Vegemite on toast was eaten. The coffee was quite good.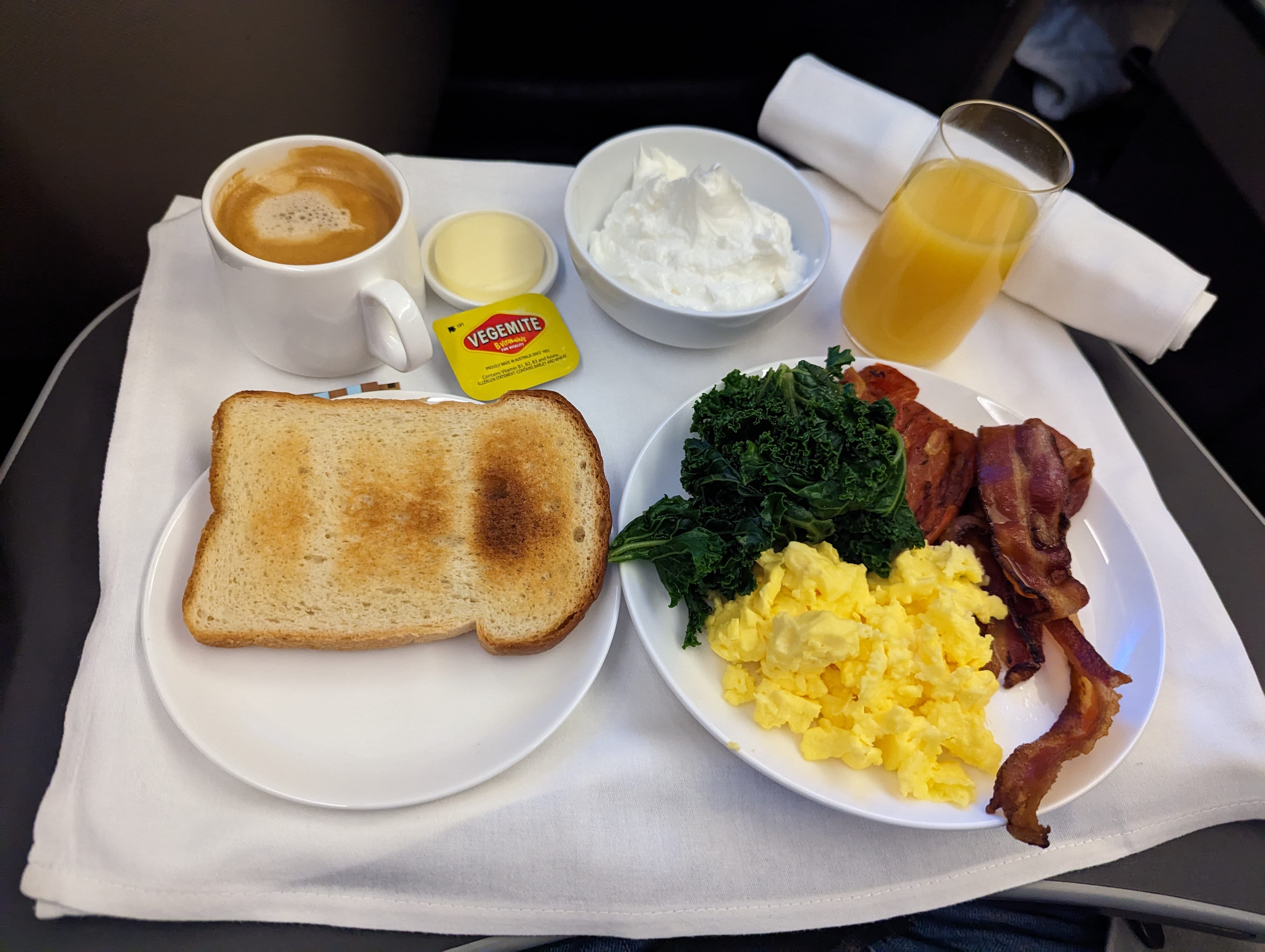 A business seat really does make all the difference in a 14-hour flight; I must have slept for eight hours straight, and I was delighted at the last-minute upgrade. Let's see if they do it again next time I have to go to Las Vegas, which is - oh, no, next month. Sigh.