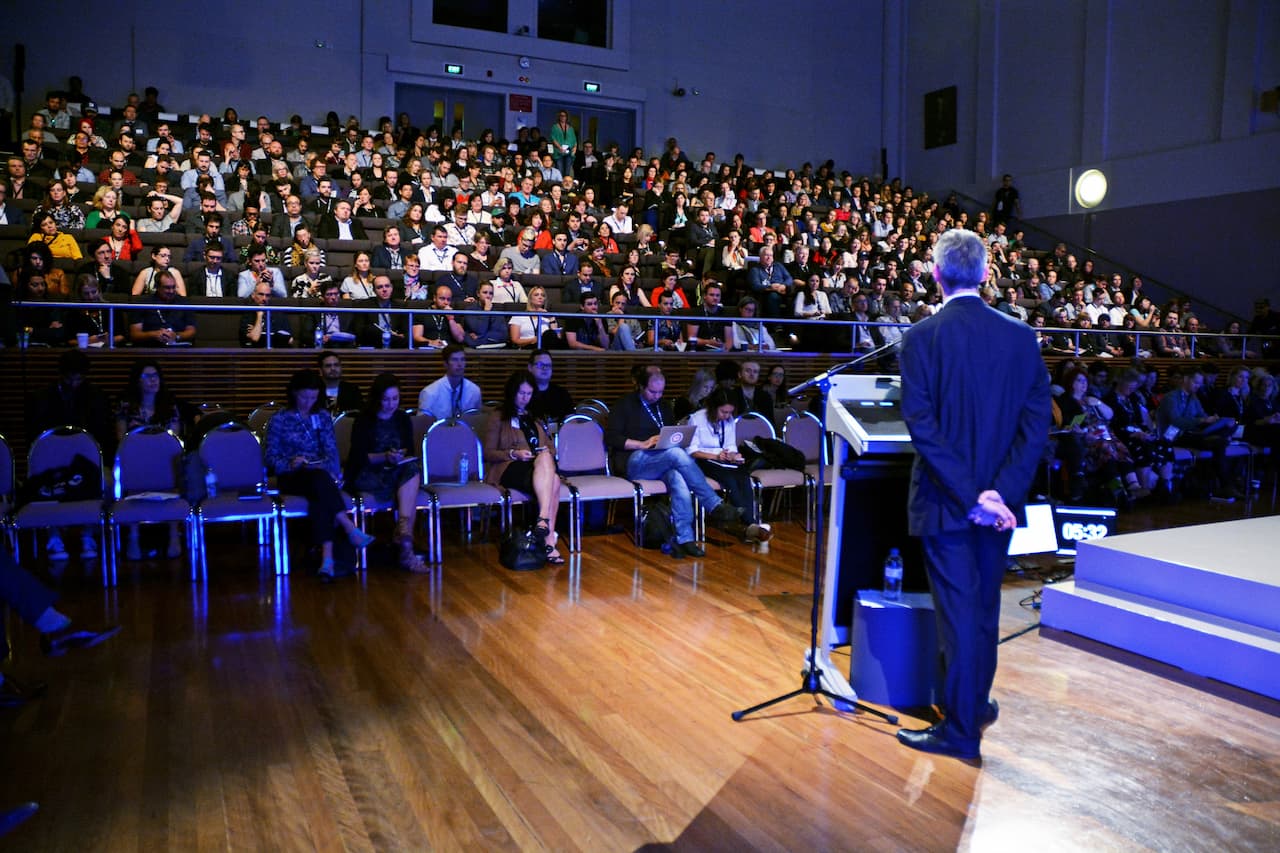 Keynotes, speaking and moderating
As a conference organiser myself, I know what makes a good and enjoyable session, and deliver a session that's both thoughtful and entertaining.
I speak with overwhelming positivity about radio and podcasting, while giving pause for thought about the past, present and future of the medium. Almost all my physical presentations include video and audio - with concrete examples from across the globe, enabling audiences to learn from best practice.
I have a virtual studio with good quality lighting, seamless access to slides and video, and high quality wired internet.
I am also an accomplished conference host and moderator.
Suggested sessions
The state of podcasting - a comprehensive look around the world of podcasting - how it's consumed, where the medium is going, and some suggestions to increase it yet further
What's happening in podcasting: and why you should care - a bespoke look back at the last six months of podcasting news, looking at the latest trends in the industry and making predictions for the future
International trends in podcasting - podcasting isn't just about the US. Find out what's being listened-to in other countries: including many who listen to podcasts much more than those in North America; and discover the best way to get new listeners from across the world
How to promote your podcast - writing a podcast newsletter since 2017, I share what to know about how to get your podcast noticed by the press: the tips and tricks that will make people write about your show, and how (and when) to maximise your press coverage.
The future of radio Examining the trends for live radio listening and understanding where the future might be headed for radio and audio in general
New platforms - new revenues - new opportunities How radio listening is changing, how revenues are changing too, and how stations are using new platforms and technologies to reach audiences in new and creatively interesting ways
I tailor every presentation to audiences and individual conferences: I'm very happy to chat to you for a brief.
Watch some
Many people use me to set the scene for the day. Here are a few examples:
Feedback
In conference feedback, my keynote speeches and moderated sessions regularly score as among the most enjoyable and informative; and I am regularly invited back to conferences for future years. Some examples of feedback include:
"Every time i see James Cridland, he never fails to bring forward new and fascinating ideas, concepts and suggestions that we as an industry need to keep in mind. He never disappoints. This was certainly the case again this year at the CMW RadioActive conference in Toronto. His opening keynote and follow up panel discussion set the tone for a terrific day of industry discussion and knowledge sharing." - Ross Davies
"James was my go-to moderator for a NATPE conference I produced about audio meets video – and just as I anticipated he was relaxed, knowledgeable and well-prepared. The best part? He helped bring out the best of our excellent guests with thoughtful questions and his trademark wit. Can't wait to work with him again." — E.B. Moss
"Your presentation was exactly what we hoped for - a great tone-setter for the rest of the day. And your contributions to the panel are already much-quoted by the industry trades." — Fred Jacobs
"James recently presented a terrific keynote speech at the RadioTech Summit that I organized for Radio Ink magazine at the Microsoft Silicon Valley Conference Center. The audience reaction was extremely positive to James' comprehensive and entertaining tour of new radio developments around the world, replete with multimedia examples. I recommend him highly as a presenter at any radio- or new media-related event." — Skip Pizzi
To discuss your conference requirements, and discover my availability and rates, please email james@crid.land